The Place with the Hottest Promotions – Ruby Slots Casino Review
Today we have another online gambling venue operated by the Virtual Casino Group. Ruby Slots was launched in 2012, and since then, it has been regarded as one of the best online casinos in the USA. This online gambling venue is most capable of impressing both new and seasoned players with the variety and quality of its bonuses, but some things may be considered as a drawback. Don't register just yet – read our review first, and you will feel much more confident about this venue when you make your final decision!
The Ruby Slots Casino Bonus Program Is Exceptional
Ruby Slots casino will provide you with welcome offers, free chips, free spins, cashbacks, comp points, VIP offers, and more. The bonus program of this online gambling venue seems to be one of its strongest points, but bear in mind that not all countries will be able to benefit from it. You can learn more about any jurisdictions exempt from bonus offers in the terms and conditions section of the website. What is interesting here is that the deals by the Ruby Slots casino bonus program will be unique for the countries they are offered in! For now, take a look at a few bonuses we found.
The Double Welcome Bonus Offers
The first welcome offer made available by Ruby Slots casino gives all newly signed players the chance to score up to 250% deposit match of up to $2 500! Bear in mind that the bonus cash can be used only on Slots and Keno. There will be no wagering requirements here and no maximum limit on how much you can cash out! There are only two things you need to cover in terms of qualification requirements – be a newly registered player and deposit at least $30.
Your second casino sign up bonus will come in the form of a 100% deposit match of up to $1 000. When compared to the first offer, this one does seem a bit small, but it is valid for all games, including Blackjack, Roulette and Baccarat. While the previous offer didn't have any wagering requirements, this one does –a rate of x30 (x60 if you're trying to redeem the requirements by playing on Blackjack and Table Games). Don't forget that there is also a cash-out limit here, which is x10. You can choose only one of the two welcome offers, so make sure you think this through!
The "Red Hot Promotions" Package
This "ruby-themed" set of offers will give you a variety of deposit match percentages, with different rules. For example, the first "Ruby Rain" promotion offers players a 100% deposit match, which will be valid for all games. The second bonus called "Gem Stone" is the same as the previous one in terms of casino rules; however, the deposit match percentage there is 160%. It is the third and final bonus in the Red Hot Promotions bundle that will impress you. It comes in the form of a 200% deposit match bonus, it's valid for all games, and there are no playthrough requirements or a cash-out limit. You can withdraw any sum you want, the moment you win it!
More Deposit Matches and Free Spins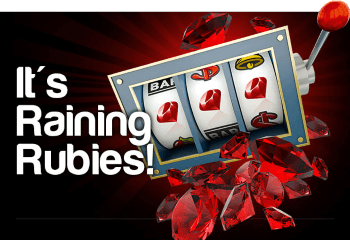 Once you've logged into the Ruby Slots casino platform, a page will appear with the latest available bonuses. Currently, there are a lot of deposit matches combined with free spins, which will definitely be useful to members who like to play slots. We should mention that these offers might change, as they are considered to be weekly or daily.
The Comp Points Program Seems Useless
Although the Ruby Slots casino does offer a comp points system, there isn't much information about it. We do know that players win comp points whenever they wager a specific amount of money, and once they have collected enough points, they can convert them into real casino cash. The rules dictate that a player must have 1 000 points before they can initiate a conversion. The exchange rate of points per money is 100 per $1. Comp points are considered to be a part of the overall promotional program, and therefore they will have their own rules and requirements!
Later, we learned that once you attain VIP status, there will be a better rate at which comp points are earned. Once you've achieved your first VIP tier, you will get 1 point for every $1 250 you spend. This is definitely unrealistic because if you want to gather 1 000 points and exchange them for a measly $10, you will need to cough up more than a million dollars in the casino. The best thing to do with the comp point system of Ruby Slots is to forget about it!
Featuring a Standard VIP Program
Becoming a casino VIP is possible here, and once you're in the "elite club," there will be five levels you can reach. The higher your level is, the better your existing benefits will become, while you gather even more bonuses. If you're interested in becoming a VIP, you will have to contact the Ruby Slots customer support department so they can evaluate your account and send you an invitation. Those players that have spent a significant amount of money since they made their casino account have a greater chance to be invited. Below, you can see a table with some of the benefits you can expect from the casino VIP program.
| | | | | |
| --- | --- | --- | --- | --- |
| VIP Status: | Level Up Free Chip: | $ Bet for 1 Comp Point: | Custom VIP Promotions: | Insurance: |
| Opal | $100 | $1 250 | ✔ | ✖ |
| Sapphire | $150 | $1 000 | ✔ | ✖ |
| Diamond | $250 | $750 | ✔ | ✔ |
| Emerald | $500 | $500 | ✔ | ✖ |
| Ruby | $1 000 | $300 | ✔ | ✖ |
The Bonus Terms and Conditions Are Vital to Your Account
All bonuses will have some rules or requirements that must be followed to the letter if you expect to profit from them. Even those casino promotions that do not have a "limit" of sorts will still have their own specifications. First and foremost, you should be aware that the casino has the right to change any rules at its own discretion, but that's not all. The most important rule is that Ruby Slots has the right to cancel your account at any time, for absolutely any reason, without even notifying you.
Having said that, if you wish to play at Ruby Slots for the bonuses, make sure that you read everything you can find regarding wagering requirements, expiration dates, qualification terms, and all other topics concerning the bonus system as a whole. The casino has many clauses that clearly define what type of behavior can be classified as "promotional abuse," and you don't want that to happen, as it will result in the events we mentioned earlier. Read it all!
The Ruby Slots Casino Games Should Be More
Ruby Casino advertises to have more than 200 games! As per usual, we performed a manual count and found that the entire gaming roster of the venue consists of 153 titles. Naturally, the majority are slots, but you can also play a variety of other casino games. The small number of titles could be explained by the fact that all of them are provided only by one software developing company – Real Time Gaming. Due to the new and updated look of Ruby Slots, the gaming sections are a bit different than the ones in the previous design of the website.
It is with some mild disappointment that we learned about the absence of a Ruby Slot casino live dealer section. During our analysis of the platform, we didn't find any indication that live games were present at any point in time. We did try to learn if Ruby Slots were planning on introducing a live dealer category to the games' roster, but we couldn't find anything.
Ruby Slots Is Secured and Certified but Not Licensed
Although the casino doesn't feature a license by a known authority, it is nonetheless secured and certified by a number of institutions. The Alternative Dispute Resolution service is provided by the company Central Dispute Resolution (CDS), so any players that experience potential issues with Real Time Gaming software, can file their grievances through the CDS channels. The casino's system security is taken care of by 256-bit SSL protocols, which encrypt all sensitive data exchanged between the venue and its members. The casino is also certified by "Norton Safe Web."
Technical Systems Testing (TST) is a company that regularly performs audits and evaluations of Ruby Slots' casino platform. TST is a part of the Gaming Labs International, which means that the testing company's services have been recognized by industry-leading authorities in the field. All checks are performed on the RNG algorithm of the gaming software used by Ruby Slots, in order to verify that the outcome of every action (such as a reel spin, card draw, or roulette ball landing) is entirely random.
The Ruby Slots Mobile Website and PC App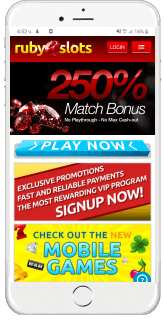 The design of the mobile website certainly adheres to the latest industry standards. It is easy to use and can be accessed with both Android and iOS smartphones and tablets. Sadly, if you're keen on playing on your mobile device, we have to inform you that the games here will be fewer – 110 to be precise. The platform doesn't offer a Ruby Slots casino app, so if you're hoping to download some native software for more games, you can't.
What you can download is the application made for PC. The computer version of Ruby Slots does contain more than 200 games, and if you're a fan of PC gaming, you might like it. The application itself has minimal hardware requirements, so you won't have to worry if your computer is powerful enough or if there is sufficient free space on your hard drive.
Any games you will play on the PC version will feel faster and smoother, since you will store a game's resources on your machine, instead of having them streamed throughout the Internet. If you would like to have the full "Ruby Slots casino experience," then the PC app is the way to go. The only drawback is that the app is supported only by Windows operating systems – meaning that Apple computer users will have to stick with the browser version of the platform.
Customer Support Is Supposed to Be Active 24/7
If you need the help of the customer support department of Ruby Slots casino, you can allegedly reach them via an email or live chat. You can even find a toll-free number you can call, which is listed within the venue's PC app. We have to admit that no matter what we tried, we couldn't get the live chat to work.
Should finding out more information about the casino proves bothersome from the customer support section, you can always visit the FAQ page. There, the available info categories will be "General Questions," "Technical Info," "Security Info," and "Gameplay Issues." Every single one of those categories contains numerous sections with information. The FAQ page is pretty detailed, so it's very likely that you will find an answer to any general question. If you have a more complex inquiry, it is recommended that you try to contact customer support via email.
Banking – Casino Deposit and Withdrawal Methods
Besides the cryptocurrency Bitcoin, Ruby Slots supports Visa, Mastercard, Discover Network Card, American Express, Players Rewards Card, NETELLER, check, a deposit by phone, and bank wire transfer. We should mention that there is a chance of you not being able to use all these methods. In fact, if the county you reside in does not support them, they won't show up in your cashier's menu.

Naturally, some casino methods are slower than others – as is the case with the "personal check" and bank wire transfer. In most cases, you can wait from three to eight business days for the process to be complete. Don't forget that these two methods are the most likely ones to be charged a fee, and in some cases, it might be even more than one.
Conclusion – Try It Before You Buy In
While Ruby Slots shines bright in a promotional aspect, it disappoints very hard in other topics. The lack of immediate customer support is a drawback that some players might not like, and perhaps the casino is going to fix that one day. If you're just interested in the bonuses but not so much in the number of games, then you might like this casino. Due to the somewhat stringent terms and conditions, we urge you to exercise caution with your money, and only play with a budget you're comfortable with. If you wish to make an account here, we advise you to take your time and look around the platform first. Don't make any hasty decision!