Enjoy the Best Live Games at the Online Casinos
From their conception, the online live casinos provoked a lot of interest, and the games can now be found on the majority of the leading websites. The main reason for their popularity is pretty unambiguous – they provide players with the best of both worlds. There is the opportunity to play from the comfort of your own home, without having to sacrifice any of the atmosphere of a land-based venue. An additional benefit is that all of the action takes place in front of you, and so you can watch the cards being dealt or the roulette wheel being spun. It's this real-time aspect that makes these versions so absorbing.
The Organization of the Live Dealer Games
The best part about the live casinos is that the facilities are the same as those found at a bricks-and-mortar establishment. Everything – from the cards to the tables – is real, and the dealers interact with the players in the usual way. Behind the scenes though, there is a lot happening. Streaming the games online is a complex operation, and it takes a whole crew of people to organize everything.
The team usually includes camera operators, sound and lighting engineers, IT specialists, and a floor manager. There is also a pit boss at hand, who will deal with any disputes or issues that may arise. Added to all of this is a huge amount of technological equipment. Amongst the items needed are cameras, monitors, and the Game Control Units. These units – known as GCUs – encode the video that is being transmitted and control all aspects of play. One of these devices is attached to every table to assist the dealers in managing the proceedings.
The Player Experience at a Live Casino
From the player's perspective, the optical camera recognition technology is the most important factor. This gadget records everything that unfolds during the games and this information is then fed through to the participants during the game. Wagers are placed in the standard way, via the computer interface, and any wins will be displayed on the screen as usual. In some versions, there is the option to switch the view, or even to pan in for a close up. The online chat facility allows you to engage with the dealer during the rounds, and for many members, this kind of interaction really enhances the overall experience. The majority of the games can be accessed on a range of mobile devices too, which is an added benefit.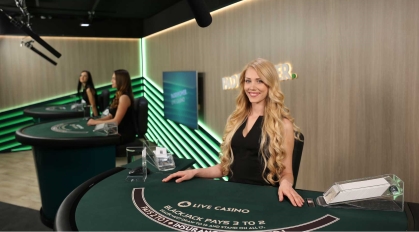 The Three Different Types of Live Casinos
The live casinos can be split into three different categories. The most common is probably the dedicated studios. These are specifically designed for broadcasting live dealer games, and like a film set, they emulate the authentic surroundings of the real venues. There are also online casinos which stream their live games from land-based establishments. In this situation, the online players will be wagering alongside members who are actually sitting at the tables. The last (and least popular) category is the games that are broadcast on cable television, and the availability of these is very much dependent on the various operators.
The Leading Providers of the Live Casino Games
In terms of provision, Evolution Gaming undoubtedly holds the top position, having secured the EGRIntel Live Casino Supplier of the Year award for the ninth year running. This developer has solely focused on the live arena, and the games are transmitted from both purpose-built studios and land-based venues. All of the content is optimized for mobile play, and new titles are regularly being added to the catalog. The other key providers are the three big names of the industry:
NetEnt – NetEnt's mobile-first approach is carried through to the live game portfolio, and the company promises to stream perfectly synchronized audio and video to its players on a range of devices.
Playtech – Playtech broadcasts in premium HD quality, and aims to provide members with a high-end experience. The company has a number of VIP tables, and also caters for a lot of the Asian market.
Microgaming – Microgaming's unique selling point is its link to Playboy, and so some of the dealers are, in fact, bunny girls. Additionally, players enjoy high-definition streaming and multi-table options.
Our Top Offers For USA

Best Online Casino Bonuses

Casino

1st Deposit Bonus

Match Bonus

No Deposit Bonus

Specials

Cashbacks

Free Spins

Live Bonus

Claim

Desert Nights

Up To

$2,550

250%
$10 Free Sign Up Bonus

WEEKEND CASHBACK
FRIDAY FREE TICKET

25%
350

0 No

Claim

Bonus

Miami Club

To Review
Up To

$4000

100%

0 No

Ut to 5,000 Prize Pool
Daily Reload Bonus up to 110%
UP TO $200 Refer & Earn

25%
50

0 No

Claim

Bonus

Cherry Jackpot

To Review
Up To

$2,000

200%

0 No

70% Slots Bonus
24/7 Continual Bonus
Up to 75% Slots Bonus

40%
25

0 No

Claim

Bonus

CasinoMax

To Review
Up To

$3,000

300%

0 No

75% Slots Bonus
Get up to $9,000 worth of Bonuses for your first 3 deposits

40%
20

0 No

Claim

Bonus

Roaring 21

Up To

$10,000

100%

0 No

Weekly Double Up
Refer & Earn up to $200
Summer Splash

40%

0 No

0 No

Claim

Bonus

Wild Casino

To Review
Up To

$1,000

100%

0 No

Free Spin Thursday
Up to $5,000 in Welcome bonuses
Live Dealer Leaderboard

0 No

100

0 No

Claim

Bonus

Bet Online

To Review
Up To

$3,000

100%

0 No

20% Weekly Reload Bonus
10% Weekly All-In Casino Rebate
$25 Live Dealer Risk-Free Bet

10%

0 No

0 No

Claim

Bonus

Planet 7

To Review
Up to

4,000

400%

0 No

Unlimited withdrawals
Bitcoin accepted
Casino is online since 2008

15%
25

0 No

Claim

Bonus

Royal Ace

Unlimited

385%
$25 Free Chip

Monday Happy Hour
Saturday SpinORama
Sundays with a Cherry On Top

0 No

35

0 No

Claim

Bonus

Raging Bull Slots Casino

To Review

Unlimited

350%

0 No

Easy deposits
Fast withdrawals
Safe and secure transactions

30%
50

0 No

Claim

Bonus

Slots of Vegas

To Review
Up To

$5,000

400%

0 No

Weekly cashback on Sundays
Loyalty bonuses
Monthly VIP Insurance (up to 50%)

50%
50

0 No

Claim

Bonus

Cool Cat Casino

To Review

Unlimited 330%

330%
$25

No Deposit Bonus
VIP Bonuses
Free Spins

15%
50

0 No

Claim

Bonus

Silver Oak Casino

To Review
Up To

$4,000

320%
25 Free Spins, No deposit

Up to 10,000 on first 10 Deposits
Cash Back Bonuses

60%
45

0 No

Claim

Bonus

Uptown Aces

To Review
Up To

$8,888

225%

0 No

Weekend 250% Bonus
Monthly Bonus $100 Free
100% Bonus + 100 Free Spins

25%

350

0 No

Claim

Bonus

Slotocash

To Review
Up To

$4,000

400%

0 No

Collect up to $7,777 in Free Welcome Bonuses
Mr. Slotos Bonus Chart!
Easy-Win Cashback Bonus!

35%
300

0 No

Claim

Bonus

Red Stag

Up To

$4,000

400%

0 No

Weekly Double Up
Refer & Earn up to $200
Summer Splash

25%
500

0 No

Claim

Bonus

Bodog

To Review
Up To

$600

100%

0 No

Casino Leaderboards
Royal Flush Bonus
Bad Beat up to $1,000 Bonus

0 No

20

0 No

Claim

Bonus

Bovada

To Review
Up To

$1,000

100%

0 No

Up to 3,000 in Welcome Bonuses
Cash Bonuses
100% Poker Welcome Bonus

15%

0 No

0 No

Claim

Bonus

Slots.lv

To Review
Up To

$1,000

200%

0 No

Up to $5,000 in Welcome Bonuses
Refer & Earn up to $200
Summer Splash

15%

0 No

0 No

Claim

Bonus

Slots Capital

$125

277%

0 No

Weekly bonuses
Weekend cashback
Friday free ticket

20%

0 No

0 No

Claim

Bonus

Diamond Reels

To Review
Up To

$500

150%

0 No

Up to $1,400 in Daily Bonuses
100% Weekend Bonus + $50 FREE
250% Midweek Top-Up

20%
50

0 No

Claim

Bonus
* T&C's apply, click Claim Bonus for details.
A Few of the Lesser-Known Providers
Some other developers have focused predominantly on live casino provision, and although these brands might not be as well-known as the leading providers, they are rapidly making waves in the marketplace. Three names in particular deserve a mention. Extreme Live Gaming is part of the Novomatic Group, and it provides players with a unique and engaging experience. Ezugi prides itself on its state-of-the-art studios and experienced dealers. The company produces 18 different games and operates more than 70 tables. Finally, Vivo Gaming has multiple studios around the world, and the games are broadcast 24/7.
The Selection of Live Casino Games
When live casinos were first introduced, the selection on offer tended to be fairly standard. Even the best online sites would only have the basic table games listed, and not much else. Now though, there is a much wider choice available, and players can enjoy some additional options such as Sic Bo, Dragon Tiger, and Hi Lo. The main categories provide several variants too. Baccarat enthusiasts can often choose between mini, speed, and squeeze. The choices for roulette include Slingshot, Double Ball, and Immersive. Blackjack fans have the opportunity to 'bet behind' and wager on another player's hand. There are versions of poker as well, with Stud, 3-card, and Hold'em all readily available.
Three Notable Games by Evolution Gaming
When it comes to innovative versions, Evolution Gaming once again leads the way. Dream Catcher is a huge money wheel, and players bet on where the spinner will come to rest. This game has proven to be very popular with members, who enjoy the interactive element during play. Lightning Roulette is all about lucky numbers, and if one of these is hit during the round, the payouts are multiplied. The Live Football Studio melds sports betting with online casino action offers, as live matches are linked to the gameplay. The two cards that are drawn are associated with real fixtures, and members wager on a Home, an Away, or a Draw.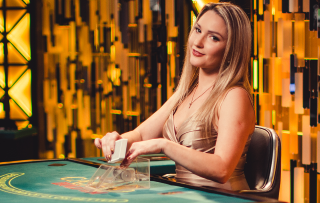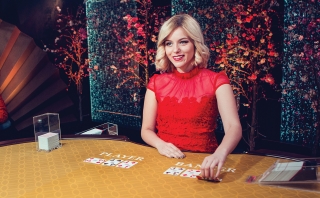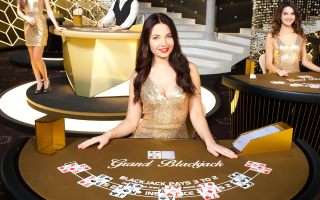 The Betting Limits and Progressive Jackpots
Most live casinos will have a range of tables available, and these will have different betting limits. Those for the high rollers are often given the label of VIP, and you can also find no-commission versions. A number of the games have progressive jackpots. For example, in Playtech's Progressive Baccarat, there is a separate prize fund that is awarded if an 8 and an ace of the same suit are drawn for both hands. Evolution Gaming also offers these lucrative variants. Caribbean Poker is won on a Royal Flush, and Casino Hold'em pays out for a 7-card Straight Flush. Alternatively, there is Texas Bonus Poker, and as well as the top prize, this has a number of smaller rewards available.
Soaking up the Live Casino Atmosphere
One of the best parts of playing online at the live casinos is that it is easier to monitor your progress during the games. It is often said that the rate of play is lower in these versions, but as the average round of casino baccarat game only takes around 48 seconds, this argument doesn't seem to carry much weight. For the majority of players, the biggest lure is the opportunity to engage with a real person during play. From the moment you join one of the tables, you will be greeted by the dealer, and this interaction tends to continue throughout. In some of the party titles, there are two hosts, and the main aim in these variants is to create a fun atmosphere.
Future Developments in Live Casino Provision
The future of the live casinos is certainly looking bright as the industry is continuing to develop at an incredible pace. The 2018 ICE Totally Gaming convention showcased the rapid move towards virtual reality, with both Ezugi and Extreme Gaming moving into this arena. NetEnt has also been exploring this sector. The company recently launched its first 'Live beyond Live' product, which takes the form of a virtual lobby.
Once inside, players can enjoy the multi-table environment with live dealers. Playtech is in the process of developing augmented reality, which it claims will result in 'content literally leaping out of the game'. Given the high level of competitiveness in the online casino industry, these innovations will just be the tip of the iceberg.