Which Payment Methods Are Best at an Online Casino?
There are usually all kinds of payment options listed at the online casinos, but these vary a lot, and in most cases, the choices are dependent upon location. Many players prefer the more traditional ways of making deposits, such as a bank transfer or a credit card. However, it's becoming increasingly common to use one of the newer means available. These include a variety of ewallets and prepaid cards, which offer a secure and anonymous way of moving cash around. In some areas, it's even possible to top up your playing funds with your cell phone.
Even if you've already decided which method is the best for you, it's still worth investigating the other possibilities that are available. You might find that there's a faster and more convenient way for you to transfer money to your account.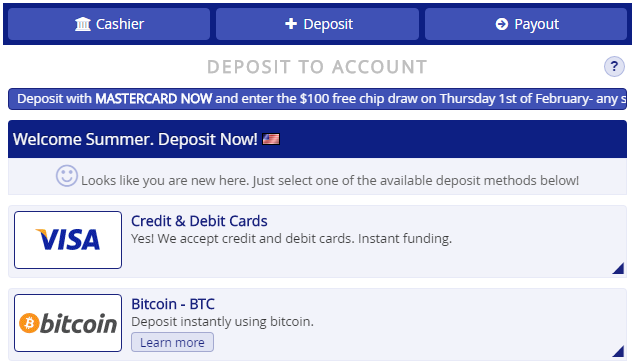 Making an Online Deposit at a Casino
When you want to add some funds to your casino account, you simply have to head for the cashier section of the website. The accepted methods of payment will be listed there, and you can choose the one that's most suitable for you. There are often differences in the amounts that you can deposit, and the clearance times will also vary, so these are factors that you should explore.
In the majority of cases, the money will be instantly added to your playing balance, but there are a few exceptions. You should also see if there are any fees attached to the transfer. This tends to be free at most of the venues, but again, you'll need to check.
The Process of Making a Withdrawal
You may find that you have a more limited selection available when you want to take out some of your winnings. It's often the case that the payment method you used to make your deposits isn't eligible for receiving funds, and so you'll have to choose an alternative.
To request a withdrawal, you usually just need to click on the button in the cashier section and state the amount. The processing times for your request will differ, depending on the method that you've chosen. It can be instant, but it can also take up to ten working days for your funds to be cleared. There will be a minimum and a maximum lint applied, and this will be variable, too. The other key element to consider is the fees attached, as you'll notice that some options are costlier than others.
Using Bank Transfers for Payments
It's nearly always possible to use a bank transfer or wire to add funds to your casino balance. Many players like the convenience and the security of making deposits straight from their own account. On the downside, the clearance times vary considerably between establishments, and there are often fees applied, as well as minimum and maximum limits. The other issue that's often mentioned is the lack of anonymity that it affords. Your financial details will be fully disclosed to the venue, and your payments will be listed on your statement. All the same, this remains a popular choice among members, and it's a common choice when it comes to making withdrawals.
What's the Difference between Debit and Credit Cards?
There is a significant difference between these two options. With a credit card, you are effectively borrowing the cash that you are spending. For this reason, the funds are protected by the financier's insurance, and so you'll be covered if there are any problems when you're making transfers. With a debit card, however, you are accessing the cash in your own bank account. This means that your money won't be protected if there are any issues. Nevertheless, this method is often preferred because there isn't any possibility of overspending. As soon as you reach your upper spending limit, you'll be prevented from making any more payments.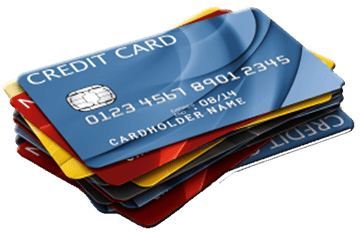 The Best-Known Credit and Debit Cards
Most of the casino websites accept deposits from the leading credit cards, with the market leaders, Mastercard and Visa, both regularly listed as payment options. The other name you may come across is American Express. In terms of debit cards, you will usually have a few more options. Maestro is owned by Mastercard. This used to be known as Switch, and in many locations, the old term and symbol are still commonly used. Visa Debit is another alternative, along with its sister card, Electron.
The main difference between these two is that the Electron version won't allow the account to exceed its limit, whereas Visa Debit is able to provide an overdraft facility. However it really makes almost no difference for the casinos so you will find that all brands such as 888 or Cherry Jackpot are happy with any of these payment methods.
Understanding How Digital Wallets Work
Digital wallets, or ewallets, act as an intermediary between you and the online casino. This provides you with an additional layer of protection during your transactions, as none of your financial information will be disclosed to the venue. The process is incredibly easy. You simply link your bank account to the ewallet provider, and when you wish to make deposits to your playing funds, they will deal with the transfers for you. When you want to take out some of your winnings, you can make a withdrawal to your digital wallet, and then move it to your bank from there.
You can usually download an app from Google Play or the Apple Store too, so you'll be able to access the service wherever you happen to be. In the majority of cases, there isn't a charge for this, and the account management is often free, too. Although there are a number of companies around, there are probably three names you'll come across. Skrill offers transactions in 40 different currencies. Neteller has more than 23 million account holders worldwide. Finally, there's PayPal, which remains the favored choice in many countries.

The Benefits of Using Prepaid Methods
Many players like the simplicity and the privacy associated with the prepaid methods. If you opt for one of these versions, you won't need to disclose any of your bank details to your casino. There are some companies that focus on providing these services for particular locations, and this is something that's worth checking out. There are others that cover a wider network, though. One of these is EntroPay, which provides you with a disposable, virtual Visa card.
It's free to open an account and it takes less than sixty seconds to create a card. However, you will be charged a small fee when you receive money, either from your own account or from elsewhere. Another option is PaySafe. This works in a different way as you don't need to transfer any funds. Instead, you purchase a card from one of the sales outlets. When you are making any online payments, you just input the 16-digit code that you've been given, and the transaction will be processed.
How Bitcoin Has Joined the Scene
When it first joined the mix, Bitcoin was dismissed as something that couldn't be trusted. However, it has stood the test of time, and is now regarded as a serious contender in the financial markets. This cryptocurrency runs on peer-to-peer transactions, and so it is able to provide a borderless service. It is also free from any governmental bureaucracy. However, this could also be viewed as a bit of a negative as there isn't any official regulation. The fees are variable, decided upon by the users, which does lead to a degree of volatility. Even so, Bitcoin is accepted at many of the online casinos, and you will very often be awarded a larger welcome bonus if you open your account with this payment method.
Using Your Telephone for Payments
It's now possible to make payments with your telephone, and there are specific apps for this, depending on your device. Apple Pay allows you to receive and to send money, either through the message service or via the personal assistant, Siri. Google Pay was launched last year as an alternative system for android devices. You may have other options, but this will depend on your location. Players in Sweden can use Zimpler to make deposits, and those based in the UK can go for Payforit. With both of these methods, you only need to have your mobile phone with you, and then you'll be able to make a transaction.
A Final Point on Security and Safety
There are a few things to keep in mind when you're choosing a payment method for your casino account. The first is to note the fees attached to each method. This can vary quite considerably. It's also worth looking at the clearance times associated with them all. There are some options that will be processed instantly, while others can take several days to be cleared. The final point is to ensure that all of your transactions are secure. You'll know this is the case if there is a padlock symbol in your browser during transfers. If you have any issues at all while you're making a payment, you should always contact the customer service team, and they will be able to assist you.